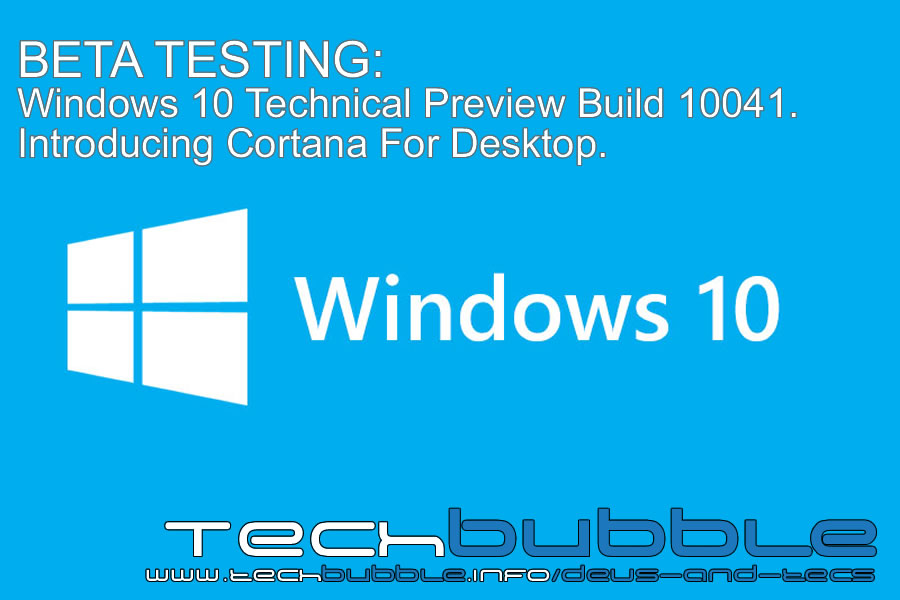 BETA TESTING: Windows 10 Technical Preview Builds 9926 & 10041. Introducing Cortana For Desktop.
Adam Keith Milton-Barker
| Mar 20, 2015 |
Windows Insider Program
| 2500
It has been quiet a while since I have participated in the Windows Insider Program so I decided to take a bit of time to get some testing done on the OS. Recently Microsoft have released the Technical Preview Build 10041 which I have read about over the last few days and was looking forward to testing out the new features of the latest build. In previous articles about the Technical Preview I have written about the installation process on a Compaq Laptop. On attempting to upgrade to the latest preview on the laptop I ran into numerous errors and issues with the upgrade. I took to the Microsoft Community to hunt around the forums and see if anyone else was having similar issues and found quite a lot of feedback pointing to changing partition sizes. After following methods suggested on the forums I was hitting error code after error code so decided to start the installation again but this time installing the preview on a Hyper-V virtual machine, freeing up the laptop for a fresh installation of Ubuntu and Facebook's new open source Artificial Intelligence deep learning modules, Torch. The installation process went smoothly and I successfully installed build 9926. After a number of Windows updates I could finally test out the latest features of build 10041 and checkout how Cortana works on the desktop version as opposed to her current home on my Windows Phone. The first thing I noticed was the new transparent Start Menu that a lot of people on the Insider Program have been asking for recently. Another new feature with this build is a new fly out panel for network connections that allows easy access to setting up and accessing wireless and Ethernet connections etc. Next I checked out Cortana, in the screen shots on this page you will see Cortana located in the bottom left of the OS. On starting her up she asked what my name was and if she had said it correctly which she did first time. After the introductions were out of the way she presented information to me which I was able to tell her I was either interested in or not. The basic functionality of Cortana reminds me very much of my Artificial Intelligence programs and TOA my natural linguistics program. You can type or speak your questions and commands and Cortana will respond by opening the browser at Bing displaying results. Cortana is now available for Insiders in UK, France, Italy, Germany and Spain via the Fast Ring which provides new builds more regularly than the Slow Ring, although most Fast Ring builds may contain more errors as Slow Ring builds will be released after most bugs have been eliminated. The virtual desktops feature has been updated as well and now provides the ability to drag windows to a virtual desktop and create multiple desktops more easily. Onedrive photos are now displayed in the Photos App and it also now supports RAW files and has a number of keyboard shortcuts that make it easier to use. One feature that I have read about but haven't used is a handwriting canvas which uses handwriting recognition which provides suggestions and predictions. For the testers the Feedback and Insider Hub Apps have been updated with filters for feedback and suggestions along with a new feature that allows you to click ME TOO from the search facility to confirm if you are having similar issues, there is also a progress area that allows you to track your progress in the program. One thing I was a bit annoyed about was the fact that Spartan, Microsoft's new browser set to replace IE, was not included in build 10041, however you can test out the rendering engine named Edge by enabling Experimental Features in the about:flags tab. All in all there have been some good updates in this new build and I look forward to checking out the next build which will hopefully include the Spartan browser. As the future builds come in I will keep you updated with the new features as we move towards an official release of the production OS later this year.