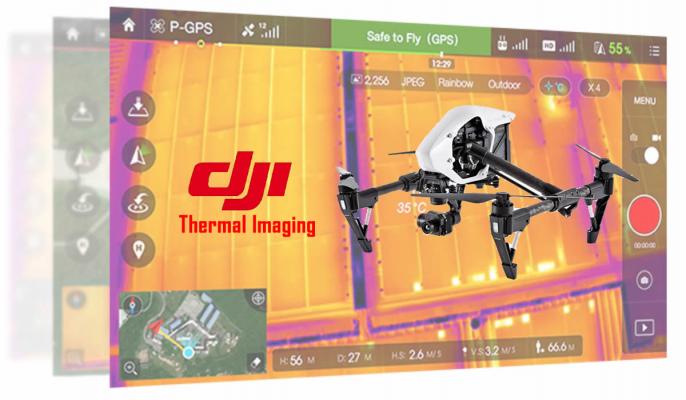 DJI releases thermal imaging camera.
Adam Keith Milton-Barker
| Dec 16, 2015 |
Drones and Robotics
| 3316
As a lot of people were already talking about the possibility of having a thermal imaging system that would attach to the modular system on the DJI inspire and Matrice 100 DJI have just released its brand new thermal imaging camera.
Introducing the DJI Zenmuse XT, the ultimate solution for rapid and reliable thermal imaging built on DJI Zenmuse gimbal technology and solid image transmission.
Boasting a camera system developed by Flir that provides high sensitivity infra red scanning at 640/30 fps. Sensitivity at this scale provides accurate temperature readings, along with the stabilization system the Zenmuse gimbal provides, along with 360 degree of seamless rotational movement. Is increasing the DJI inspire as one of the number one flying systems available due to its now modular camera systems.
Infra red imagery requires very precise optimization for capturing visual data. 
The Zenmuse XT camera features image optimization and processing by FLIR including :
Digital Detail Enhancement™ (DDE);
Smart Scene optimization™ (SSO), which enhances extremes in bi-modal scenes;
Active Contrast Enhancement™ (ACE) that adjusts scene contrast relative to its *temperature difference.
Information Based HEQ™ (IBHEQ) which compresses complex image data to create the best quality image.
As usual the whole Zenmuse XT system is controlled via the DJI go app, which features precision finger tip control, digital zoom, live temperature read outs and all the usual photography controls as seen with the x3 and pro cameras.
The expected flit time is reported as 22 mins on the DJI inspire 1, and around 35 mins on the Matrice 100 system. This along with the 3.1 mile image transmission range, automated waypoints and points of interest, and quick deployment is making this system a hardy contender in the field of UAV systems.
It's going to be an interesting and exciting year in 2016 with their future develop,Mets and releases. As soon as my Zenmuse XT lands I'll follow up with some video, photos and example videos of this system at use.